Limited-Time Only
Your Order is Reserved for:
Adam O'Dell's Green Zone Fortunes
pick is poised to be the
Next "PayPal"…
…And could bring you a
total 125% gain in the next year!
Dear Reader,
I'm Adam O'Dell.
I couldn't be more excited to share my Green Zone pick with you today.
That's because it's a better buy than the $237 billion-dollar juggernaut, PayPal…
…And the $348 billion-dollar and $442 billion-dollar credit card giants Mastercard and Visa too!
This little-known small cap is trading for just $18 right now…
Making it a total bargain.
But it's been on a tear recently…
And about to take off again.
That's because this overlooked and undervalued company is about to overtake the $4.4 trillion-dollar digital payments industry.
An industry that experts say will continue to grow by a massive 17% annually.
If that's not exciting, I don't know what is…
But it gets better.
It's ALSO becoming a key player in the extremely lucrative e-sports industry that's raked in a little over $1 billion this year…
That's billion with a capital "B!"
And with an annual growth rate of 16%, the e-sports industry is projected to grow to a multibillion-dollar market in just a few short years.
Again, this small-cap company is at the forefront of that exponential growth.
This is just the beginning…
This stock's financials are stellar and are getting better by the day.
Right now, it has…
Over 42 million active customers using more than 22 million virtual "wallets"…
Over 130,000 physical kiosks and terminals installed…
Over $24 billion in processed payment volume in 2019…
Of course, any investment still carries risk. You should never bet more than you can afford to lose. But I want you to get the details on it before it's too late.
That's why I'm inviting you to become a brand-new member of my Green Zone Fortunes stock advisory service today.
The moment you're on board, I'll send you my newsletter with all the details on how to take advantage of this incredible opportunity right away…
…And how it can turn into a massive gain as high as 125% in the next year!
Plus, you'll also discover how this tiny stock rates according to my six-factor Green Zone stock rating model.
As a certified Chartered Market Technician (CMT), I was able to build this system from scratch.
Every day it automatically rates more than 4,000 stocks on the six factors known to drive market-beating returns:
Momentum.
Size.
Volatility.
Value.
Quality.
Growth.
Each of these stocks is rated on each of the six factors.
And then each one gets an overall rating, too.
These ratings range from 0 to 100, where "100" is the best.
I'm pleased to tell you that the rating for this little-known digital payments company recently scored…
98.4!
Take a look…
That's compared to PayPal's recent status of just 79…
…Visa's recent score of 60 and…
…Mastercard's recent rating of just 54…
Now you can see, this little-known small-cap stock is an instant buy.
I expect it to go as high as 125% in the next year, too.
But you have to get in right now to ride this stock all the way up.
The moment you become a Green Zone Fortunes member today, you'll get all the details right away.
I can't wait to send them to you.
Become a Green Zone Fortunes Member Right Now for Just $0.13 a Day…
You'll be surprised at how cheap it is to join today because…
It usually costs tens of thousands of dollars to get a CMT to send you their investing insights.
Those who hold the coveted CMT qualification like I do are the Navy SEALs of the financial world — the top 1% of the top 1%!
Back when I was working for big trading firms and Fortune 500 financial companies as a CMT, I would command huge sums for my services.
But I didn't want the price to be the reason you can't take advantage of the great bargain stock I told you about today…
That's why I started Green Zone Fortunes— where I share my research and investment recommendations at a much cheaper price.
A one-year subscription to Green Zone Fortunes costs just $199…
That's a drop in the bucket compared to what I would charge my multimillion-dollar hedge fund clients.
But because this is still a new service, you're going to get an even better deal today.
For a limited time, you can claim a 100% risk-free subscription to Green Zone Fortunes for just $47 — more than 75% off the regular price!
That's less than $0.13 a day!
This is just the beginning…
By becoming a member today, you'll also get 11 additional monthly issues of Green Zone Fortunes…
Including my absolute best stock recommendation each month, along with weekly updates and flash alerts — all sent straight to your inbox!
And, when you accept this limited-time discount today, you'll also get four more FREE bonuses:
FREE BONUS No. 1 (VALUE $199)
A9 Gold Stocks: Boost Your Gold Gains by 9* TIMES During the Greatest Gold Rally in History.
(*Gains could materialize anywhere from a few months to a few years' time.)
Inside, you'll get the details of three A9 Gold Stocks — including ticker symbols, profit projections and company specifics.

With this information, you'll be able to buy in immediately.

And I recommend you do.

Because if I'm right, these stocks won't stay cheap for long.
Remember: A9 Gold Stocks have the potential to give you nine times more profit than buying gold bullion, coins or exchange-traded funds (ETFs)…
They could shoot up to a furious top over the next few months…
Or they may take some years to fully develop.
But for the greatest profit potential it's imperative that you buy into A9 Gold Stocks as soon as possible.
Once you go, you could easily turn a modest stake into a small fortune as gold potentially rockets to $10,000/ounce.
FREE BONUS No. 2 (VALUE $199)
My #1 Play as Silver Rockets to $100/ounce
As you know, gold and silver travel together.
They might be the most correlated assets in all of financial markets. It is often said: "Where gold goes, silver follows."
I predict "gold's crazy cousin" will hit at least $100.
That's nearly four times higher than it is today.
But it could be much more.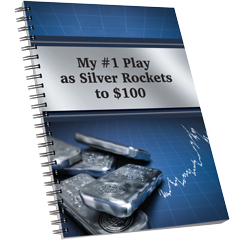 As with gold, you could do well in silver bullion, coins or ETFs…
But if you want to leverage silver's rise, mining stocks are the best place to do it.
And I've already picked out my number one silver miner.
It could deliver insane gains of up to 2,000% or more during the coming bull market.
You'll get all the details of my number one silver play in this FREE report.
FREE BONUS No. 3 (VALUE $199)
The Crash-Proof Portfolio: How to Sell Your Stocks Before a Crash … Every Time!
Most people don't realize this…
But it can be incredibly easy to sell your stocks just before a crash and avoid a big drawdown in your portfolio.
There's a simple rule you can follow that could have helped you during:
The Great Depression.
The oil crisis of 73-74.
The dot-com bubble.
The Great Recession.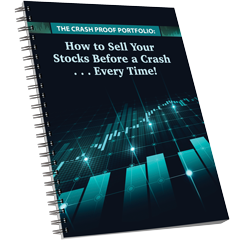 In this report, you'll learn what this rule is in plain English … so you can put it to use immediately.
Plus, you'll also learn…
How almost anybody can become a successful trader … it doesn't take talent or an especially large bank balance (you just need to follow simple rules!).
Why an active investing strategy can be far safer than "buy and hold". (It means you might never see the kind of declines portfolios saw in 2008 ever again!)
The strange reason the average investor makes less than HALF the annual return of the S&P … even during bull markets!
The No. 1 mistake people make when investing in stocks. (99% of investors do this without even knowing it. You'll learn how to avoid it.)
How to ride a "never-ending bull market" where you always have a winning trend to play…
All these secrets and more will be yours the moment you sign up with your FREE copy of this valuable report.
FREE BONUS No. 4 (VALUE $299)
Winning at Stocks "Millionaire Master Class"
In seconds, you can be reading through all seven modules of the Winning at Stocks Masterclass…
This exclusive series reveals all my market-beating secrets …
Plus, you'll get the details of a strategy that's one you should keep in your back pocket for whenever the market crashes in the future.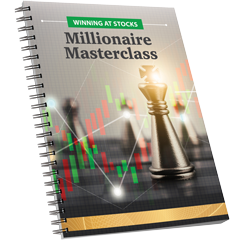 That way, instead of seeing your portfolio rocked — you might actually look forward to them because they'll be the most profitable times of your life! As always, any investment still carries risk. You should never bet more than you can afford to lose.
In the past, if you paid full retail for the master class it would set you back $599.
But today, you'll get a copy totally FREE the moment you purchase a no-risk subscription to Green Zone Fortunes.

That's 4 Bonuses … an $896 Value!
FREE When You Subscribe to Green Zone Fortunes!
Green Zone Fortunes is my way of putting institutional-quality research in your hands without the Wall Street price tag.
Each month you will receive my newsletter that is jam-packed with up-to-date market research, my invaluable investing insights and analysis you won't find anywhere else. This is the core of my research service.
The best part is I do all the heavy lifting for you.
Just read my easy-to-follow analysis … and, if you choose, buy into my recommendations and potentially watch your investment accounts grow like a weed.
Join Green Zone Fortunes today, and you'll get access to all this:
12 monthly issues of the Green Zone Fortunes newsletter ($199 value).
Email updates and urgent flash alerts.
24/7 access to the private Green Zone Fortunes member site.
Live Green Zone Fortunes model portfolio.
Plus, your four FREE bonuses worth $896.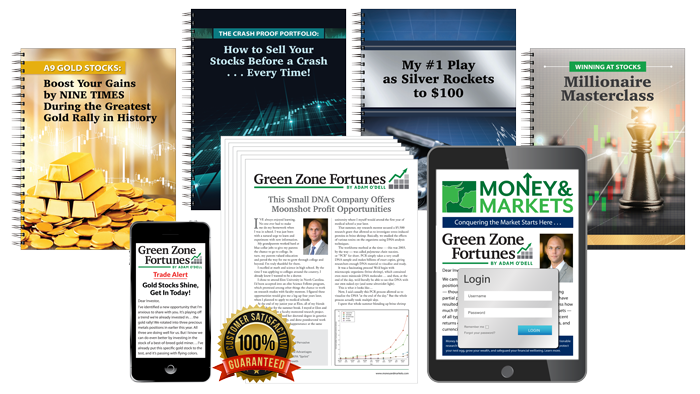 $1,095
Yours for just $47!
Here's the best part:
If you join today, you can get one full year of Green Zone Fortunes AND your four FREE bonus reports…
That's a total value of $1,095 … yours today for just $47.
And your purchase is covered by my 100% 365-day money-back guarantee.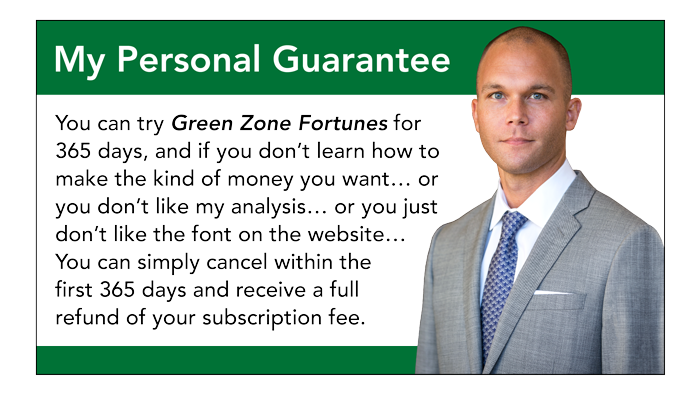 To claim your risk-free subscription, just enter your information below.
I'm looking forward to seeing you on the inside.



Adam O'Dell, CMT
Editor, Green Zone Fortunes
Simply fill out the form below to get
started today for just $47!