Congratulations!
You're Just 1 Click Away From Claiming a Full Year of Green Zone Fortunes for Less Than $4 a Month!
Congratulations! The market is on track to mint more new millionaires in the next 12 months than in the last 15 years…
And you can join them in capitalizing on today's market boom by seeking out the biggest market-beating gains.
How?
You're about to take your first step … by becoming a member of Green Zone Fortunes today!
When you do, I'll send you my No. 1 market-breaker stock pick of the year … plus two other huge market-breaker opportunities as part of the Market Breakers Bundle!
And you'll gain access to even more potential market-crushing opportunities through our Weekly Hotlist and monthly Green Zone Fortunes stock recommendations.
That way, you can take full advantage of perhaps the hottest market we'll see in our lifetime!
Now, a one-year subscription to Green Zone Fortunes usually costs $199.
But today, you can claim a 100% risk-free subscription to Green Zone Fortunes for ONLY $47 (that works out to just $3.90 per month)!
That's savings of more than 75% off the regular price…
PLUS you get $997 worth of FREE bonuses to help you take advantage of all the market-breaker opportunities in this millionaire-making market.
Here's everything you get today when you subscribe to Green Zone Fortunes: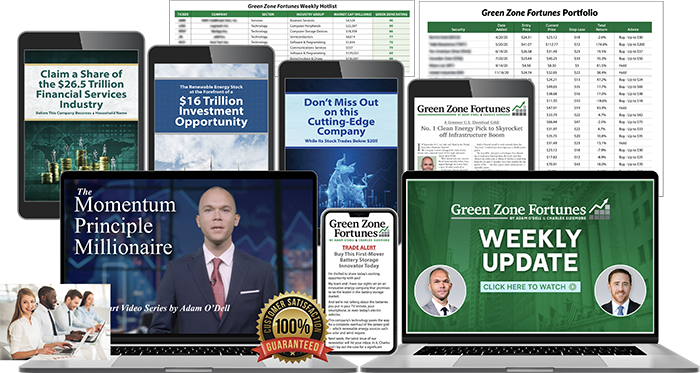 Detailed Monthly Briefings
You get my No. 1 market-breaker stock sent straight to your inbox each month in my newsletter — as well as detailed research and analysis. You'll also get 24/7 access to the members-only website, including my live model portfolio and past research reports.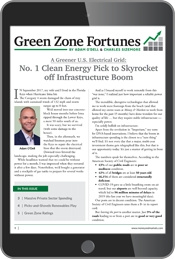 Access to the Green Zone Fortunes Weekly Hotlist
Each week, I run all 8,000 U.S. stocks through my powerful Green Zone Rating system. I then send the top 10-rated stocks to Green Zone Fortunes members every Wednesday. In just the last eight months, this list has featured 24 market-beating stocks that hit triple-digit peak gains.

The Market Breakers Bundle
The Renewable Energy Stock at the Forefront of a $16 Trillion Investment Opportunity
This is it! My No. 1 market-breaker stock pick of the year from the renewable energy sector. This company is capitalizing on two massive trends … building the smart grid and designing and engineering alternative energy projects. It's a prime candidate to benefit from the $2 trillion infrastructure plan, and what's more … it's a prime mover in the 5G space. Don't miss out on what could be the biggest market breaker of the year!
Don't Miss Out on This Cutting-Edge Company While Its Stock Trades Below $20!
Think about how many times you could have … should have … invested in a stock when it traded below $20. Like Apple … Amazon … Tesla. On second thought, DON'T waste your time thinking about what could have been. Not when you have an opportunity like this in front of you. A potential new tech goliath involved in blockchain, the Internet of Things and artificial intelligence … and it's trading for less than $20. I'll give you all the details in this report.
Claim a Share of the $26.5 Trillion Financial Services Industry Before This Company Becomes a Household Name
Last year, over 10 million new retail investors signed up to trading platforms… That's more than double the year prior. What's more, the majority of them were 30 and under. In this report, I'll give you the scoop on a company that is poised to capitalize on that influx of new traders … before it becomes a household name.
PLUS: The Momentum Principle Millionaire Video Series
In this video series, I'll show you how to improve your success in the stock market with some of the best investing tips and tricks on the planet … including my best investing secret — something I call the "Momentum Principle." This is the one factor that has helped me crush the market 3-to-1 last year … outperform Warren Buffett's Berkshire Hathaway for nearly a decade … and even identify future market-breaker stocks like my No. 1 market breaker of the year.
ALL of these bonuses are yours to keep, even if you cancel.
And to make sure you have uninterrupted access to Green Zone Fortunes, my team will also auto-renew your subscription each year for an additional year at only $79. With today's offer, you will lock in that low yearly rate for as long as you choose to stay a member.
You can cancel this auto-renew feature at any time, and your purchase is protected by a 365-day, 100% money-back guarantee.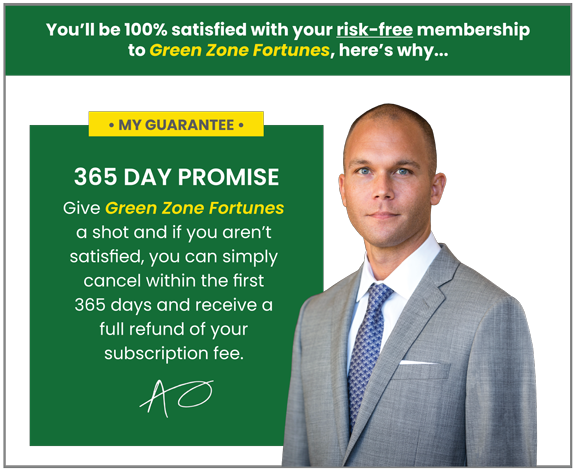 That means you have nothing to lose by taking a trial subscription to Green Zone Fortunes…
So what are you waiting for?
There's no better time than RIGHT NOW to get into tomorrow's market-breaker opportunities … in what could be the hottest market of our lifetime!
And the best way to do it is to fill out the form below.
I look forward to welcoming you to Green Zone Fortunes!
To good profits,


Adam O'Dell
Chief Investment Strategist, Money & Markets
Simply Fill Out the Form Below to Get
Started Today For Just $47!